Map 3B – Kennisis Lakes and Roads
Click here to download a pdf version of Map 3B – Kennisis Lakes and Roads.  (approx. 10.5 MB)
Map 4A – Boating and Navigation Hazards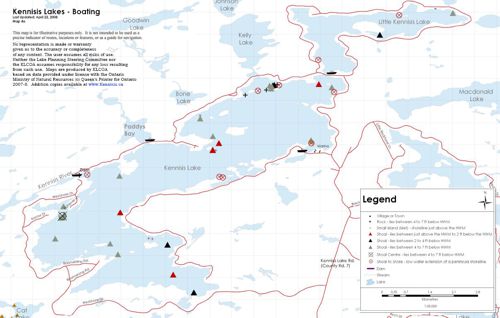 Click here to download a pdf version of Map 4A – Boating and Navigation Hazards  (approx. 2.6 MB)
Map 4B – Buoy Locations (May 2019)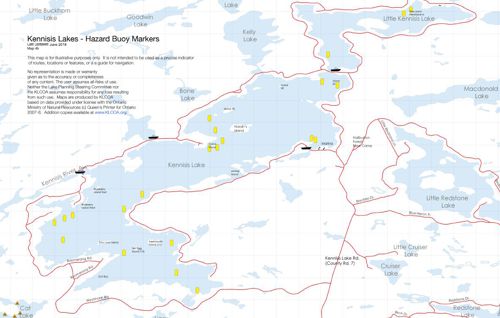 Click here to download a pdf version of Map 4B – Buoy Locations (May 2019)  (approx. 1.5 MB)
IMPORTANT NOTICE
The Kennisis Lake Cottage Owners Association is continuing our program to help create a safer boating experience on our two lakes.  We have placed distinctive yellow floating marker buoys at approximately 20 of the most hazardous rock and shoal locations on the lakes.  These locations, as well as others to be marked in the future, are shown on the Navigational Hazards map found on the KLCOA website.
As some rock formations are large, often extending far beyond the buoys, boaters are advised to give the buoys a wide berth.
The buoys are placed in the lake annually in the spring and removed for the winter in the fall.
We would welcome suggestions from cottagers about additional locations you deem hazardous to boating.
THIS PROGRAM WILL MARK ONLY SOME OF THE DANGEROUS LAKE HAZARDS.
The program does not guarantee or even suggest that unmarked rock locations can be safely navigated. The primary responsibility for a safe boating experience rests with the individual operator of a watercraft. Boat operators should follow the instructions on safe boating learned when preparing for and obtaining your Pleasure Craft Operators Card. As well, you should use common sense when travelling near shorelines, islands and areas displaying tell‐tale signs of possible shallow water and/or underwater hazards, which may not be marked with buoys.
KLCOA and its directors and officers take no responsibility for injury to boaters or damage to boats as a result of contact with navigational hazards.  We are indebted to the Federation of Cottagers Associations (FOCA) which has shared with us their considerable research of the regulatory and liability issues associated with this program.
Please stay safe and enjoy your boating experience on our beautiful Kennisis Lakes.